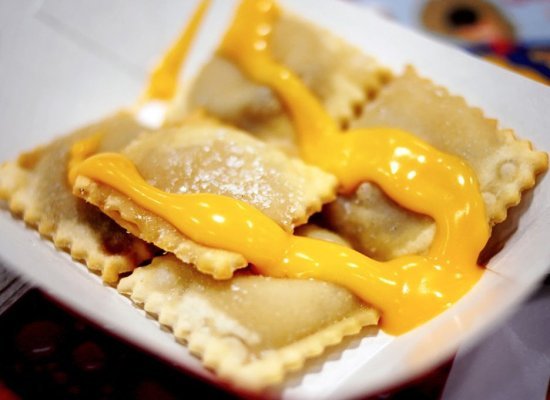 Picture via Huffington Post
Did you know alcohol could be fried? All you have to do is stuff it into pretzel dough and close it up like a ravioli. Pour some mustard on it and your halfway to a heart attack before you even swallow. This delicious-looking yet deeply-upsetting-if-you-really-think-about-it food innovation won the 2010 Big Tex Choice Awards at the Texas State Fair.
In absolutely unrelated news, Texas is now the 12th fattest state in the nation, up from last year's 13th place (#winning!) ranking in adult obesity, according to a
report
released this morning,
F as in Fat: How Obesity Threatens America's Future 2011
, by the
Trust for America's Health
and the
Robert Wood Johnson Foundation
. F our future, that's for sure.
The
report on Texas
gave some scary information. The state's obesity rate has increased more than 80 percent in 15 years, with adult obesity at about 30.1 percent. Not so shocking: racial and ethnic minority adults, and those with less education or who make less money, continue to have the highest overall obesity rates. And really upsetting? 20.4 percent of children and adolescents in Texas are considered obese. In a state that looks to cut every dollar for government-funded healthcare.
But Texans are fighting back (sort of)! The state is taking efforts to prevent and control obesity, including:
School meal standards that are stricter than the U.S. Department of Agriculture (USDA) requirements.
Limiting when and where competitive foods (foods and beverages sold outside of the formal meal programs, through à la carte lines, vending machines and school stores) may be sold beyond federal requirements.
Passing legislation that requires body mass index (BMI) screening or weight-related assessments other than BMI for children and adolescents.

Establishing farm-to-school programs.

Complete Streets laws: "Complete streets" are roads designed to allow all users – bicyclists, pedestrians, drivers, and public transit users – to access them safely.
But with all the delicious barbecue, Tex-Mex, and fried beer easily available, maybe it's worth it just to be fat. Just don't suffer any health consequences as a result, and you'll be fine.